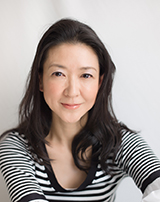 Get RealPlayer(Free)

Get FlashPlayer(Free)

Message from Misako Konno
It's been 13 years since I assumed UNDP's Global Goodwill Ambassadorship. During this time, I had the opportunity to be part of nine UNDP field visits which allowed me to interact with local people and staff who supported UNDP in each country. I am always amazed to see their professional work in poverty reduction, recovery from natural disaster and HIV/AIDS while making concerted efforts to tackle the problems specific to each country despite some challenging conditions UNDP faces. It is my hope that UNDP continues to contribute to development as well as to human development that will lead to building better lives.
Misako Konno's activities as a UNDP Goodwill Ambassador
Ms. Misako Konno was appointed as a UNDP's Goodwill Ambassador in October 1998. Since becoming the Goodwill Ambassador, Ms. Konno paid official visits to Cambodia (May 1999 and August 2007), Palestine (July 2000), Bhutan (June 2001), Ghana (August 2003), Timor-Leste (July 2004), Viet Nam (August 2005), Mongolia (August 2006), Tanzania (August 2008) and Pakistan (July 2010) to promote UNDP's activities locally as well as globally. She always interacted with local people and encouraged their work to have a better life. Her visits also motivated UNDP staff and stakeholders who had chances to promote their good works through media.
In addition to official visits to country offices, Misako delivered over 20 public lectures at schools and events and advocated the importance of international cooperation in Japan. She encourages initiatives taken by ordinary citizens and motivates the youth to study and take actions to solve development challenges in the world. In commemoration of her tenth anniversary as UNDP Goodwill Ambassador, Misako published an essay book "La La La Shinzentaishi (Goodwill Ambassador)". She is the longest-serving UNDP goodwill ambassador.
Profile of Ms Misako Konno
Misako Konno is an acclaimed actress and essayist from Tokyo, Japan. Having made her debut as an actress in the 1979, Misako has appeared in various television programs, movies and stage productions. She started to engage in volunteer activities in her youth and was sent to Nepal and India as a Japanese ODA reporter in the summer of 1997. She has also supported a range of activities at the grass-roots level. Besides acting, Misako also wrote essays and received the Japan Writer's Prize in Women's Literary Category on her science essay "Sora Tobu Hotate" (English title: "The Flying Scallop"). In October 2010, she established a reading theater, "Roudoku-za" where she offers reading-style entertainment in collaboration with various artists.